Holloway Street, Lower Gornal

Stratigraphy: Downton Castle Sandstone Formation (known locally as the Gornal Grit).
Holloway Street, Lower Gornal, West Midlands Situated approximately 2 km to the west of Dudley town centre is a large shallow abandoned sand pit with remnant long rockfaces scattered among the greenary and ponds of a grassy open space. The rockfaces are of Upper Silurian deltaic cross-bedded sandstones of the Downton Castle Sandstone Formation (known locally as the Gornal Grit).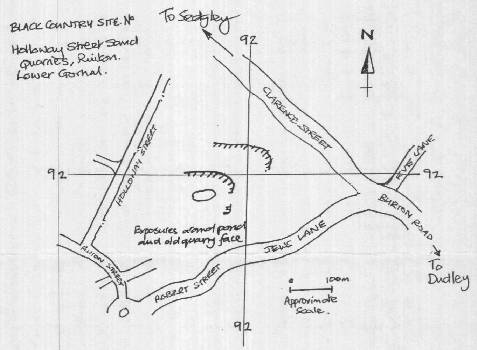 The junction between the Downton Castle Sandstone and the underlying Turners Hill beds of slightly older age were once exposed behind factories on the opposite side of Holloway Street and also at the opening of a storm water pipe in the main quarry area. The Turners Hill beds are shales containing much primitive plant material and show that a quieter, less energetic sedimentary palaeogeographic environment existed immediately before the onset of Downton Castle Sandstone deltas. The quarry is now much overgrown and access during the height of summer is restricted by significant vegetation growth.
The best exposure is approximately l00m in length and can be found at SO917919. It is the best and only known example of the junction between the two geological units in the area and is in distinct contrast with the junction of the Downton Castle Sandstone at other nearby localities such as The Hayes Cutting at Lye or at Saltwells Local Nature reserve. This makes this exposure particularly important for understanding how changes occurred in this area at the onset of the Caledonian mountain building period.
There is open access to the exposures from footpaths leading from Holloway Street and associated estate roads onto the green area.
Black Country Geopark
Holloway Street Quarry SINC is one of the Black Country Geopark's Geosites.
Find your way