The Wren's Nest, West
In and around Marsh's Quarry

These first two photographs below are from the late 1950s and provide rare images of this exposure before it was decimated in 1961 when the pillars supporting the roof of the underlying cavern were blown out with the use of opencast gelignite and dynamite.
After 1961 the now dislodged beds still showed the Lower Quarried Limestone Member/Nodular Member succession but in 1984 concerns were raised about the stability of the rock face and consequently the exposure of the Lower Quarried Limestone Member was demolished with the use of explosives.
Devil's Mouth Cavern entrance into the Lower Quarried Limestone Member was situated at the base of the exposure and can be seen (partly hidden) behind the bush on the left side of the photograph (above).
The irregular rock formation around the opening suggests this mine entrance was driven through a large bioherm. Stromatoporoid and coral structures can be seen more clearly in the Express and Star photo of the Devil's Mouth Cavern (below).
The next photograph provides a rare image of the interior of Devil's Mouth Cavern and shows some of the roof supporting pillars that were (along with the first two Seven Sisters Pillars – see below) demolished by explosives in 1961. Although the Marsh's Quarry entrance can be seen in the background (top right), the main source of illumination of this scene was another opening situated in the vicinity of the first two Seven Sisters Pillars.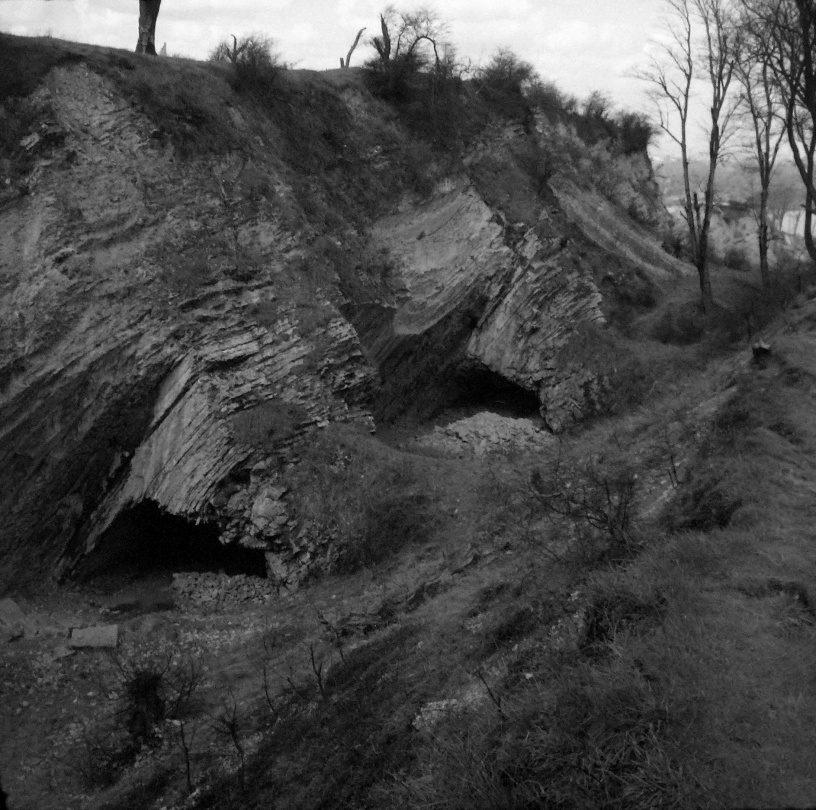 The first two Seven Sisters pillars view looking north west. Marsh's Quarry is situated just beyond this (now demolished) exposure (top right corner of photo). Photo from the early 1950s.
In 1984 the attention of the authorities was drawn to the large crack (the result of the collapse of the underlying cavern) in the dislodged beds of the Lower Quarried Limestone Member and it was quickly decided to demolish the exposure.
The ridge running along the top of the housing estate forms part of the main watershed of England that separates the catchment areas of the River Severn and the River Trent. Rain falling beyond the ridge (western side) drains into the Bristol Channel via the River Stour and the River Severn, and rain falling this side of the ridge (eastern side) drains into the North Sea via the River Tame, River Trent, and the Humber Estuary.